Background
Edit
Location popular for celebrating St. John's Eve.
Locations
Edit
Bayou Exit
Edit
Clearing Entrance
Edit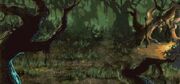 Ritual Clearing
Edit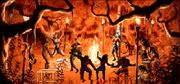 Behind the scenes
Edit
Bayou St. John is name for two locations in New Orleans area. The first is water way that links up to Lake Pontchartrain, and the other is a residential district at the southern edge of the of waterway.
The Bayou itself has parks running beside its banks on either side along most of its path.
The game's portrayal of the Bayou is somewhat confusing, as it is a forested area in game. Located a bit north of the residential district. However, in real life that area is all residential as well on eastern side of the Bayou. The western side of the Bayou is however the location of the Lousiana's famous City Park, which contains Couterie Forest. It is the latter that probably is the inspiration for the location in the game.
In the game the icon for Bayou appears on the map as a large "live oak" tree, and is on the east side of the bayou. However, this is probably due to the fact that the large icon for Grandma's house is on west side of the bayou (actually just beyond City Park) and does not leave any space for the tree icon.
The tree icon is likely based on one of the famous trees in City Park, including Anseman Oak, McDonogh Oak (both of which are between 750 and 900 years old.) or even the Suicide Oak (the latter which has an interesting legend that could easily be adapted into a story of voodoo and ritualistic murder). The legend of the park's ancient Suicide Oak is that within twelve years sixteen men committed suicide under its branches.
There is however also a St. John's Park towards northern stretch of the Bayou on the eastern side of the Bayou, while not nearly as big and more white open, it is one of the only areas that does have trees along the shoreline.
St. John's Eve is often celebrated on Magnolia Foot Bridge over the Bayou. Which includes annual 'head washing' ceremony, and other voodoo related rituals.
Community content is available under
CC-BY-SA
unless otherwise noted.