Background
Edit
On Day 1, Gran asks for Gabriel to stop by, and sends over a package for him. But Gabriel is too busy to make a visit.
On Day 4, Gran reminds Gabriel she would like him to come over and look through his father and grandfather's things. He finally agrees to go.
Locations
Edit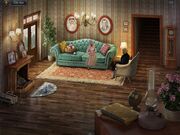 Lamp (x2)
Portrait (x2)
Flowers
Fireplace
Plant
Mantel
Clock
Knitting Basket
Sofa
Wall
Chair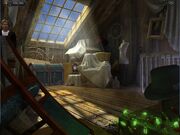 Bike Tire
Sewing Form
Hat
Frame
Chair
Ceiling
Box
Ornaments
Bed Frame
Golf Bag
Skylight
Clock (leads to closeup)
Design
Symbols
Minute Hand
Clock Face
Keyhole
Bible
Wallet
Letters
Cross
Books
Stein
Clothes
Picture
Key
Behind the scenes
Edit
There is some graphical issues in that Gabriel can walk behind the chairs in the foreground, but his body becomes 'invisible', only his upper body appears.
The clock is on a footstool rather than on the chest. Looking at it leads to a close up on the footstool. This was likely done to reduce the animation needed to make it easier and cheaper for the remake's developers.
Community content is available under
CC-BY-SA
unless otherwise noted.