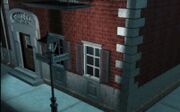 St. George's Book Shop (aka St. George's Books, or St. George's Rare Books) is a bookstore run by both Gabriel Knight and Grace Nakimura located in New Orleans on the corner of Bourbon Street and Dumaine Street.
It plays a pivotal role in Gabriel Knight: Sins of the Father but not in the remaing two games as it appears briefly in the begging of Chapter 2 of The Beast Within: A Gabriel Knight Mystery with Grace mainly working behind the counter.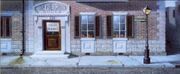 St. George's Book Shop is located directly across the street from Bruno's Florist shop.
Gabriel shut himself in his room and wrote The Voodoo Murders over a four week period. Grace brought him coffee and sandwiches. He hid pile of money he took from the Hounfour in a corner. The finished book sold well.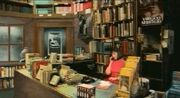 Grace Nakimura continued to work at St. George's bookstore while Gabriel finished business in Germany.
The bookshop had become a famous local attraction to fans of Gabriel Knight's bestselling adaptation of the Voodoo Murders. Many copies of the The Voodoo Murders were stocked in the shop.
After he called her for research on his latest case, she chose to leave the bookshop in another's hands, and flew to Germany to assist Gabriel.
In the original game this location is listed as St. George's Book Shop on the map. It is represented by a suit of armor.
In the remake it is listed on the map as St. George's Books, and represented by a helmet.
The shops location on Bourbon is mentioned if you look at the windows while in the shop. But can also be seen on a lamppost sign in the introduction video of the Cd-rom. One can briefly catch the cross street of 'Dumaine' in that video as well. And Bourbon and Dumaine are listed on the French Quarter travel map as well.
Community content is available under
CC-BY-SA
unless otherwise noted.