Background
Edit
St. George's Books is a bookstore in New Orleans on the corner of Rue Bourbon. It is located south of Bruno's Blooms.
Examinable/interactive hotspots in Main Shop
Edit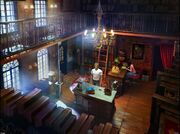 Window (x2)
Balcony
Welcome Mat
Coat
Grace's Coat
Chandelier
Painting
Coat Rack
Bookshelf (leads to closeup)
German Poetry (Das Lyrik vol. 10, by Heinz Ritter)
Dictionary (German-English Dictionary)
Ashtray
Desk
Gargoyle
Newspaper
Art Supplies
Counter (leads to a closeup of doors under counter)
Beads
Self-Help Books
Snow Globe
Tweezers
Dragon
Mary Statue
Rabbit's Foot
Blake Backlash Books
Magnifying Glass
Newspaper Article
Mask
Garter (description doesn't match image, there is no garter in the counter shelves)
Gloves
Catalog
Grace's Resume
Keychains
Ladder
Phone
Ashtray
Lamp
Box
Coffee Machine
Exit to Map
Exit to Bedroom
Examinable/interactive hotspots in Bedroom
Edit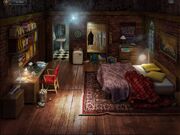 Books
Typewriter
Lamp (x2)
Desk
Radio
Garbage Bin
Bills
Blackshirt
Bathroom Cabinet (interaction gives Hair Gel)
Bathroom
Shirts
Fridge
Poster
Flashlight
Phone (leads to closeup)
Characters
Edit
Gabriel Knight (GK1HD)
Grace Nakamura (GK1HD)
Bruno
Man
Behind the scenes
Edit
In the original this location was listed on the map as St. George's Book Shop and St. George's Books on the mantle sign. It was represented by a suit of armor on the map.
In the remake it is represented by a helmet.
Community content is available under
CC-BY-SA
unless otherwise noted.