Locations
Edit
Lecture Hall
Edit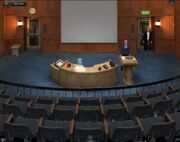 Lecture Hall
Exist Sign
Speaker
Hartridge's Office (locked)
Seats
Podium
Screen
Hartridge's Office
Edit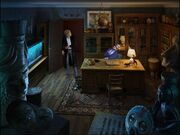 Fishtank
Ceiling
Stone Head
Globe
Pottery
File Cabinet
Trashcan
Creepy Statue
Headbust
Hartridge's Chair
African Mask
Shelves (x2)
Visitor Chair
Desk (leads to closeup)
Desk
Pencil
Notes (imprint puzzle)
Characters
Edit
Students (seen during and shortly after the lecture)
Behind the scenes
Edit
In the original Gabriel entered from the left from the side of the seats. In the new one he enters from the stage (perhaps even more rudely).
If played in widescreen mode some of the hotspots are cutoff or removed (they only appear in fullscreen mode 1280x1024). The ceiling for example cannot be examined. The Stone Head will not show up via the hotspot key, but does appear with a mouseover in widescreen though.
Community content is available under
CC-BY-SA
unless otherwise noted.